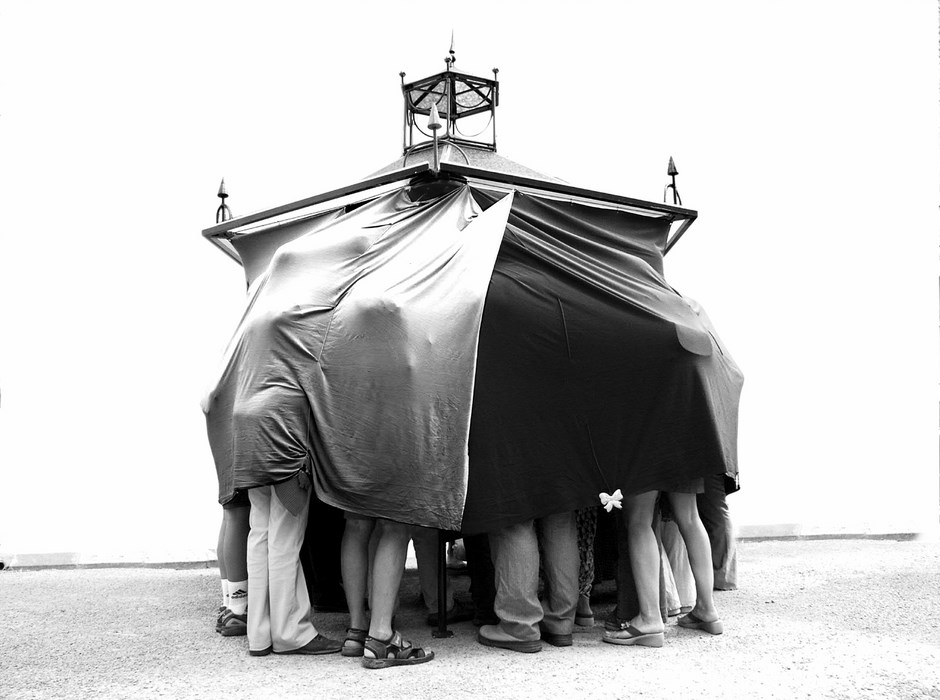 It happens how?
How explain you the principle? Imagine a portable 10 m2 and 50 kilos concert hall transported back by an unlikely Quartet musicians." A room that might shelter, tight, a good 20 people. And count three or four times more people outside, around, to appreciate the show.
Therefore four artists. Alain "former barytone', Philippe"Future trumpeter", Paul 'clown-saxo tenor', and Cyprien drummer-singer junior.

The advantage of their performance is to be ambulatory. What offer a succession of mini-concerts by moving "on the square of the village, in the courtyard, the garden, at the bend of the road, on the beach, in the House, behind the factory, at school, or under the stars".

Wednesday, the show started in the street of the clock: the public moves, not enthusiastic to enter early to tighten under canvas. The most curious or the lucky ones dare to venture and the music begins. Between jazz and adaptations of Arias from operas, this balance.

The show is also in the street, around the room, where the spectators jalouseraient those who have dared to slip alongside the musicians. As the curtain fell, and if they hear everything, onlookers do nothing. They will have to wait until the next session, in a quarter of an hour, at the other end of the street, where the Kioscoeur will stop again...

Warmly Wednesday next to the second day of the Renc'arts.       (excerpt West France July 30, 2015)
intérieur
Jazz at the locks in Hede-Bazouges with the KIOSCOEUR, that the serious a's! BIG thanks to (record of crying) public beat, thanks to Guillaume Saint James that we at trusted, to volunteers, to Britain for its weather and Pascal the Service Station (Rennes - 35), for images of this great time.
Extérieur
Un admirateur nous à filmé à Niort (79) en 2009, Merci mbrochand !